Terug naar www.granterre.nl


Terug naar Nederlandse homepage

Back to the English homepage

FANTORAMA'S: klik op het plaatje om panorama in te gaan
Bewegen door panorama met de schuiftoetsen

FANTORAMAS AND ILLUSTRATIONS: Click on thumbnail. Use sliders to move through the pictures

Contemplation / Luisteren naar de sterren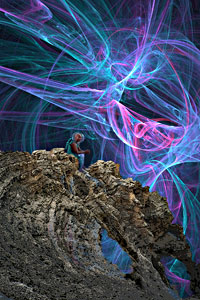 The stargate / De sterrenpoort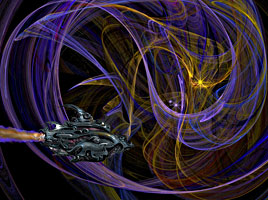 Steampunk time / Steampunk tijd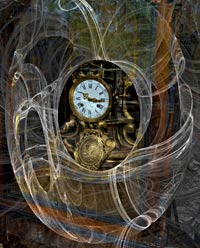 Steampunk symbol / Steampunk symbool (vrij werk)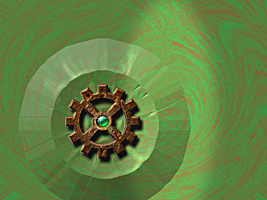 Aladdin's little sister / Aladdins kleine zusje
(vrij werk)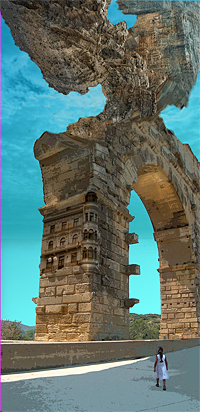 Lonely places, cover for Jack Vance edition of Wonderwaan / Eenzame plaatsen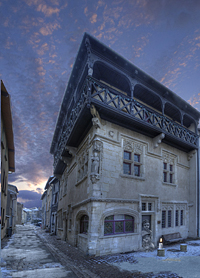 Rising waters (Hothouse world 2) / Hoogwater (Broeikaswereld 2)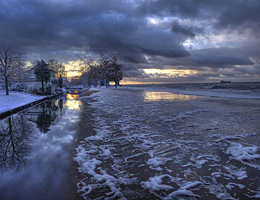 Magic Amsterdam, alternate cover for Stolen Souls / Magisch Amsterdam, alternatieve omslag voor Gestolen Zielen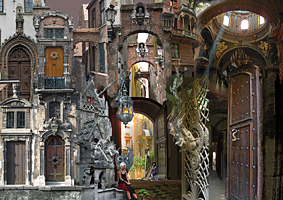 New year 2011 greeting card / Nieuwjaarskaart 2011 Moge je schoonheid om elke straathoek vinden!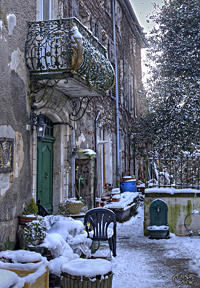 Cover 400 degrees in the shade / Omslag 400 graden in de schaduw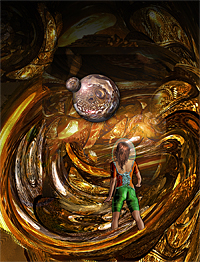 Remember Pluto! / Opdat we Pluto nimmer vergeten!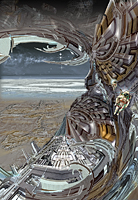 The dream of a thousand teacups, backcover of Jack Vance edition of Wonderwaan / De droom van duizend theekopjes (vrij werk)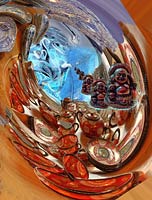 front cover BROKEN SKIES / omslag GEBROKEN HEMELS, Gran Terre 3, voorkant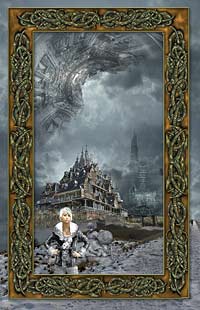 back cover BROKEN SKIES / omslag GEBROKEN HEMELS, Gran Terre 3, achterkant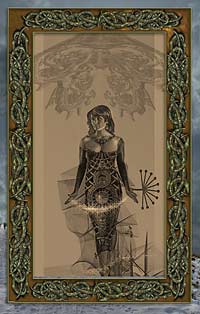 Walking the rabbits / De konijnen uitlaten (vrij werk)

Dreams of Rust and Silence / Dromen van roest en stilte (vrij werk)

Huy Jorsaleem, interior illustration for BROKEN SKIES / Huy Jorsaleem, binnenillustratie voor GEBROKEN HEMELS (2011)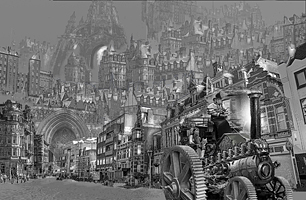 Cover for Beneath mother-of-pearl skies / Omslag voor Onder parelmoeren hemels (Augustus 2010 Verschijnsel)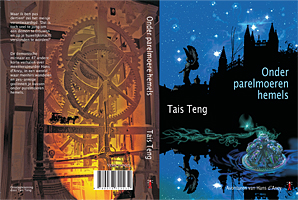 Sailing to Metropolis / Zeil naar Metropolis (vrij werk)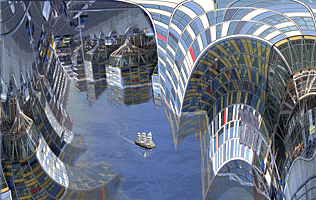 The Exile featured in Daily Science Fiction/ De balling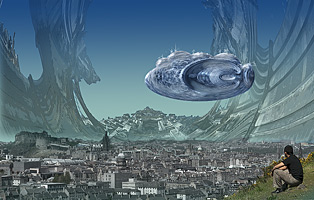 POSTERS
van FANTORAMA'S
Van de meeste

fantorama's

Kun je een

poster

bestellen van maximaal 40 X 60 cm.
De prijs is € 60,- per poster.
De posters zijn genummerd en van een digitale handtekening en datum voorzien.
Voor een met de hand gezette handtekenig komen er €4,50 verzendkosten extra bij
omdat hij dan twee keer verzonden moet worden.
Je kunt een fantorama ook als

download

in

hoge resolutie

bestellen.


U kunt de afbeelding dan zelf af laten drukken door een fotowinkel of webcentrale..




Deze downloads zijn genummerd en kosten € 20,- per stuk.


Zo'n download is voor eigen gebruik en het is niet de bedoeling dat hij doorverkocht wordt.
U kunt de poster of download bestellen door een boodschap achter te laten in het

Gastenboek


met de titel en je naam, adres en mailadres.
Ik stuur dan mijn gironummer en andere gegevens.
(Sommige platen (gemerkt met

*

) zijn het exclusieve eigendom van de klanten waarvoor ik ze gemaakt heb en niet beschikbaar).

Boekomslag Gestolen Zielen

(

Augustus 2010 Uitgeverij Kramat)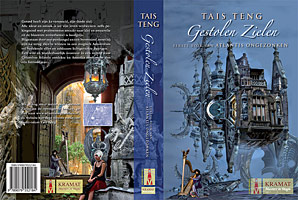 Generation ship / Generatieschip
Omslag bundel Paul Harlandprijs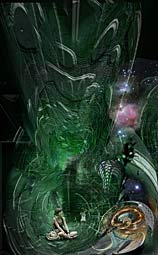 Andorra!

Our lady of the Frozen Acres / De Vrouwe van de Berijpte Akkers (vrij werk)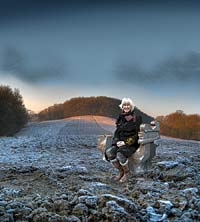 Rasputins granddaughters / Raspoetins kleindochters, illustratie voor Pure fantasy 18+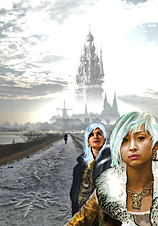 Remember, the gleam of brass in winterlight? / Weet je nog, de glans van messing in kalm winterlicht?

(vrij werk

)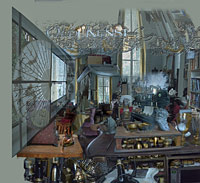 Who walks the songlines, walks in wonder / Volg de songlines en wonderen wachten om elke hoek (Omslag Paul Harlandprijsbundel)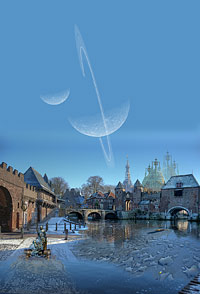 The Killer of Butterflies / De vlindermoordenaar (vrij werk)

Trantor Girls ( a hommage to Isaac Asimov) / Trantormeisjes (vrij werk)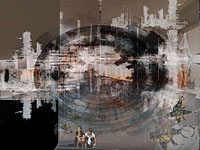 City of the Ice Queen / Stad van de IJskoningin
(vrij werk)

Aetherport Christian Huygens/ Aetherhaven Christiaan Huygens (Hans d'Ancy)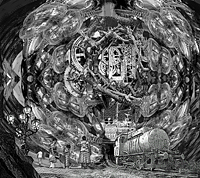 * Sense of wonder / Het sciencefiction gevoel ( Parelz cover)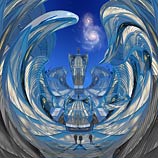 Il principe / De heerser
(vrij werk)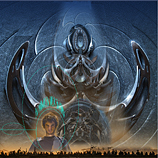 * Sunset / Zonsondergang
(Parelz cover)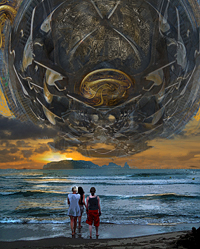 * Dragon's road / De weg van de draak

(

Parelz cover

)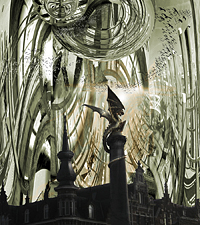 Cover for NEON LONDON / omslag voor NEON LONDEN (Verschijnsel)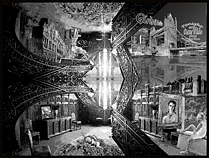 Summerafternoons / Zomernamiddagen - digitale ets (vrij werk)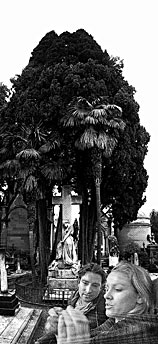 Cover Backlight / omslag Tegenlicht, verzamelde verhalen van Paul Harland 3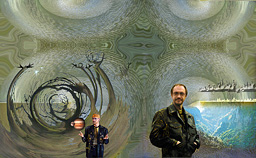 Going to see the Wizard / Een bezoekje aan de tovenaar (vrij werk)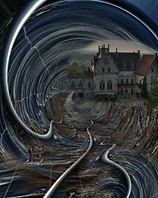 * Dinja from THE EMERALD BOY / Dinja van DE JONGEN VAN SMARAGD (MiYu Magic Stones)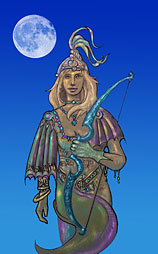 Cover A Horizon Filled With Islands / Omslag Een horizon vol eilanden

, bekijk de binnenilustraties hier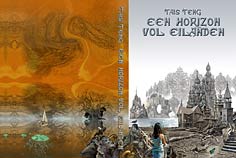 Cover Cities of Silver and Slate / omslag Steden van Zilver en Leisteen
Bekijk de binnenillustraties Steden van Zilver en Leisteen Hier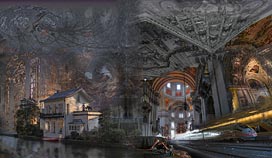 Cover Lovecraft, my love / Omslag Lovecraft mijn liefste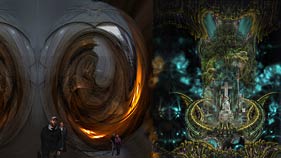 Book cover Terran stories / omslag Terraanse Vertellingen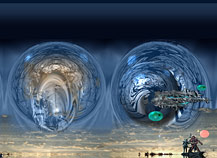 * Superskyscraper Belle van Zuylen (illustratie voor EEN HORIZON VOL EILANDEN)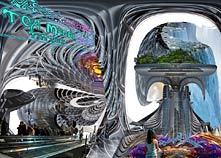 THE BRONZE STATUE OF JESSICA D'ALEMBARD / HET BRONZEN BEELD VAN JESSICA D'ALEMBARD illustratie voor STEDEN VAN ZILVER EN LEISTEEN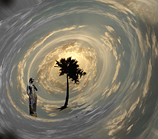 * Beachcombers' Isle / Jutterseiland - Illustratie bij EEN HORIZON VOL EILANDEN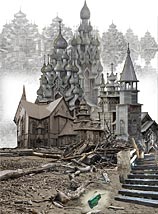 The joy of travelling / De vreugde van het reizen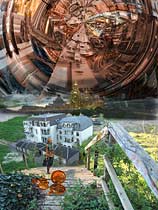 Roller Coaster World / Roller Coaster Wereld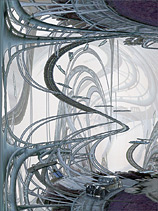 The tenacity of the lone cyclist / de kracht van den eenzame fietser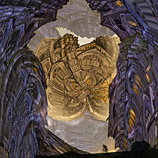 Madame Blavatsky's world / Madame Blavatsky's wereld (Kaart Gestolen Zielen)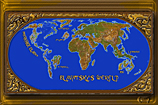 To Vicky it didn't seem the most romantic place for a blind date /
Het leek Vicky geen erg romantische plaats voor een blind date
(omslag Wonderwaan)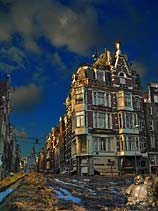 * The four elements, panels for MiYu-stand, Neurenberg / De vier elementen, panelen voor MiYu stand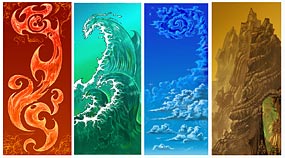 The better kind of holiday / Het betere soort vacantie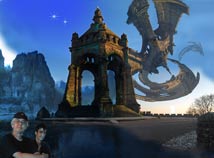 Card for 2009: May whale song wake you every morning / Mogen de walvissen je iedere ochtend wakker zingen!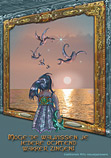 Lords of the Sevagram, nostalgic cover of van Vogt's third Weapons shops novel / Lords of the Sevagram, omslag van van Vogts derde Wapenmakers boek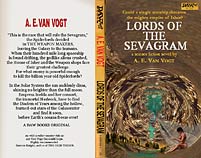 Facsimile TEXT of page 40 and page 41 Lords of the Sevagram Click here for a more easily readable version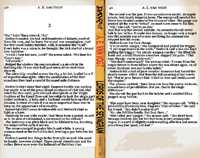 Veneto Secundo, cover of Wonderwaan / Veneto Secundo, cover van wonderstedennummer van Wonderwaan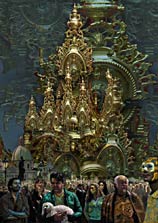 * Map of the Gran Terre, the wider world beyond the horizon (cover SHADOWSHIPS, Mynx, 2009) /
Kaart van de Gran Terre, de wijdere wereld achter de horizon (Schaduwschepen, Mynx, 2009)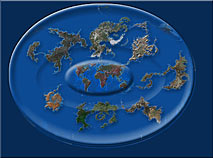 Map Workshop Castlefest / Kaart Workshop Castlefest (vrij werk)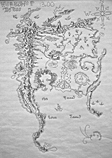 Steampunk 1 / Stoompunk1
(vrij werk)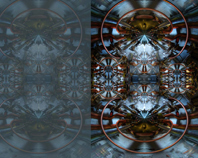 THE BOOK OF HISTORIES, HET BOEK DER VOORBIJE ZAKEN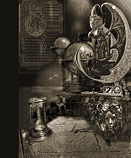 Cover for reprint In the glow of volcanos / omslag voor herdruk IN DE GLOED VAN VULKANEN (Verschijnsel 2008

)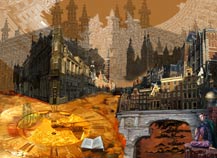 Book cover for Just call me Percy d'Arezzo y MacShimonoseki /
Omslag voor Noem me maar Percy d'Arezzo y MacShimonoseki (VERSCHIJNSEL 2008)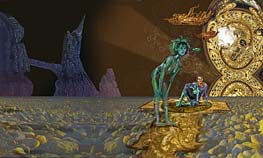 * May the storms in your life only float you treasure chests /
Moge de stormen in je leven je enkel schatkisten aanspoelen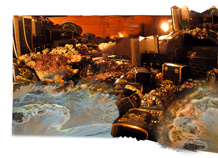 Flying dragon for MiYu-website / Vliegende draak voor MiYuwebsite

Starship mornings / Sterrenschipmorgens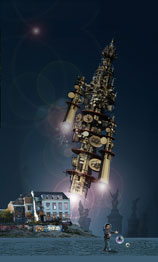 Skinhead in future Paris - Illustration for THE PLANETS by PAUL HARLAND /
Skinhead in toekomstig Parijs - Illustratie voor DE PLANETEN van PAUL HARLAND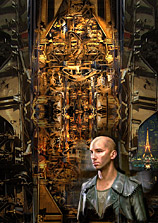 Illustration for AL-ADRIAN AND THE MAGIC LAMP as told by Dagmar the slavegirl (Wonderwaan, Arabian nights Issue) /
Illustratie voor AL-ADRIAN EN DE WONDERLAMP zoals verteld door de slavin Dagmar (Wonderwaan, 1001 Nacht nummer)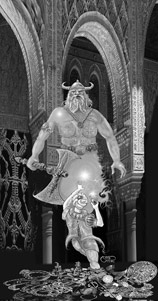 Illustration for LOVECRAFT, MY LOVE in Wonderwaan
Illustratie voor LOVECRAFT, MY LOVE in Wonderwaan


JOYS OF THE APOCALYPSE 1:
In the end little Joachim didn't get to feed the burning doves because the stone archangels were striding across the land. It didn't matter, the angels were even more fun/
GENIETEN VAN HET LAATSTE OORDEEL 1:
Uiteindelijk kon kleine Joachim de brandende duiven niet eens voeren want de stenen aartsengelen schreden over het land, maar eigenlijk was dat ook best wel vet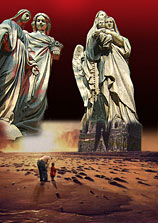 Look, now this is where I get my brilliant ideas /
Kijk, hier haal ik nu mijn ideeën vandaan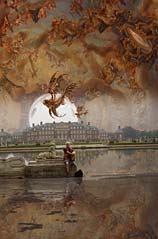 Cover for Golden Wanderways, stories of alternate worlds /
Boekomslag voor Gouden Dwaalwegen, verhalen over alternatieve werelden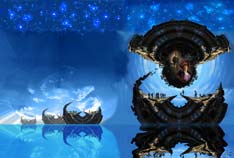 The sea has ten thousands maws, a Len Asdravith story (inspired by Hokusai) /
The zee heeft tienduizend muilen, een Len Asdravith verhaal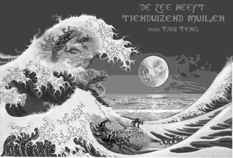 Cover Wonderwaan, illustrating The Color out of Space by Lovecraft /
Omslag Cthulhu nummer Wonderwaan: The color out of space van Lovecraft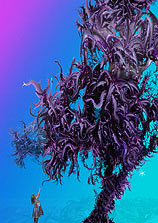 Book cover, masks with tongues by Marcel Orie /
Boekomslag MASKERS MET TONGEN door Marcel Orie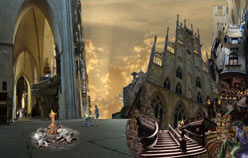 The man with the horn, a Dunwich love story /
De man met de hoorn, een liefdesverhaal uit Dunwich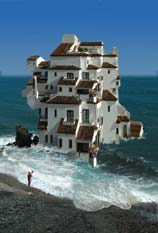 That year it was Morticia's turn to choose a holiday destination /
Morticia mocht dat jaar de vacantiebestemming bepalen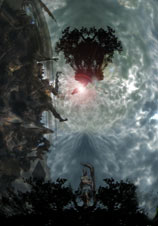 The beach of Lord Valentine's Castle wasn't exactly close /
Het strand lag nu niet bepaald dichtbij Heer Valentines kasteel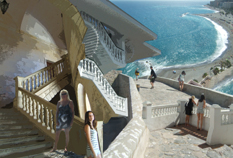 `

Wow!' Aladdin said, `this must be the greatest flying carpet of all Arabia!' /




`Tjeempie!' riep Aladdin, `dat moet het grootste vliegende tapijt van Arabië zijn!'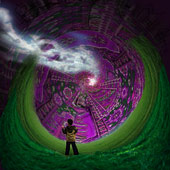 * Gliph Abar makes the islands of MiYu from starlight and seabreeze /
Gliph Abar schept de eilanden van MiYu uit sterrenlicht en de zeebries
( illustratie DE JONGEN VAN SMARAGD)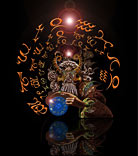 Sorry, curses and maledictions is the people next door/
Het spijt mij maar voor vervloekingen moet U een deur verder zijn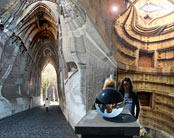 Camels and cobras everywhere but not a single browntailed woodpecker to be found/
Je struikelde zowat over de kamelen en cobra's maar er was geen enkele bruinstaartspecht te vinden

Girls wanna have fun /
Meisjes houden wel van een lolletje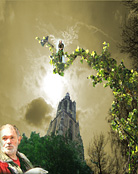 Of course he wants to party, she said, he was a prince once, you know /
Natuurlijk feest hij mee, zei ze, Sidharta was vroeger een prins weet je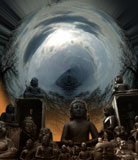 A walk on the beach with Uncle Merlin was seldom dull young Arthur decided/
Een strandwandeling met oom Merlijn was zelden saai vond kleine Arthur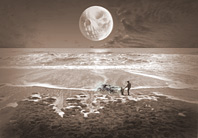 'I never go dwarf hunting again,' Tom said en Garm quite agreed /
' Ik ga nooit meer op kabouterjacht,' zei Tom en Garm was het daar helemaal mee eens.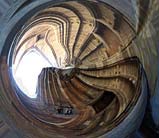 His second wish was even more stupid / Zijn tweede wens was zo mogelijk nog onverstandiger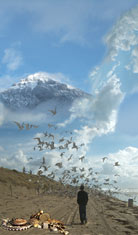 Ariadne's promise / Ariadnes belofte


Midnight at Mechelen / Middernacht in Mechelen (website van Verschijnsel)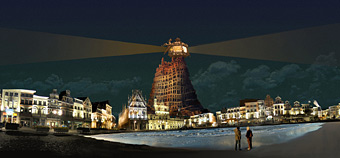 View over Yuggoth / Uitzicht over Yuggoth (Cover for Computercode Cthulhu)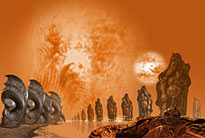 The cowboy who loved Lady Liberty / De cowboy die Lady Liberty beminde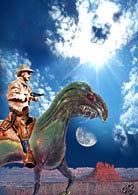 Turn left at the 2345th tree / sla links af bij de 2345de boom


Mythago wood / Mythagowoud (inspired by Robert Holdstock)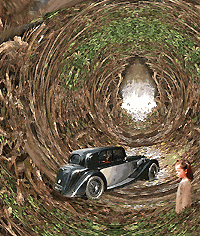 Saint Odin's Day / Sint Odinsdag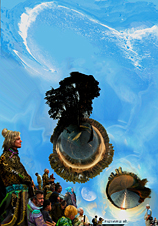 The Steersman's daughter / Stuurmansdochter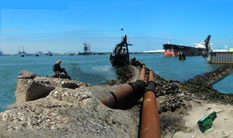 Not to mention windmills / Om over windmolens nog maar te zwijgen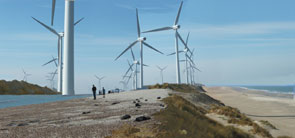 Blind date


In de uiterwaarden
Beyond the dikes


Zeil de zinkende zon achterna
To sail into the sunset


Een goed gesprek met bomen
Watching trees grow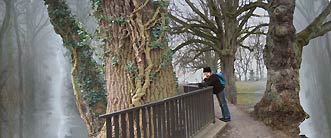 De stad die vet coole lui

elke

nacht bezoeken
The city real cool people visit

every

night


De laatste winter
The final winter

Waar heb je Narnia voor nodig?
Who needs Narnia?


Bootrace in Alfheim
Racing boats in Alfheim


Briefkaart van een gedroomde vacantie
Picture card from an imaginary holiday

Rustoord voor overspannen fantasyschrijvers
Retreat for overworked fantasy writers


Koninklijke Nederlandse Vereniging ter bevordering van Betere Zonsondergangen
Royal Dutch Society for Better Sunsets


Wijdse uitzichten
Strange views from high places


In de duisternis
Dark places


Tempels en kerken
Temples and churches


Doorgangen
Passages


Kasteel Neuschwanstein plus
Castle Neuschwanstein upgraded


Zuilen
Pillars


Wandelen in Buffyland
A walk on the Buffyside


Beeldentuin in de herfst
Statues in autumn


Aan de oevers van een digitale zee
On the shores of a digital sea